Shivraj Singh Chouhan, the chief minister of Madhya Pradesh and the chairman of the General Council, is the inspiring force behind the university's establishment. Leaders of the Bharatiya Janata Party, ruling both in the state and in New Delhi, have shown a special interest in the promotion of Buddhism. More than once in his speeches, Mr. Chouhan has declared that the state of Madhya Pradesh will extend all support to ensure that the university acquires a reputation as an international center of Buddhist and Indic studies.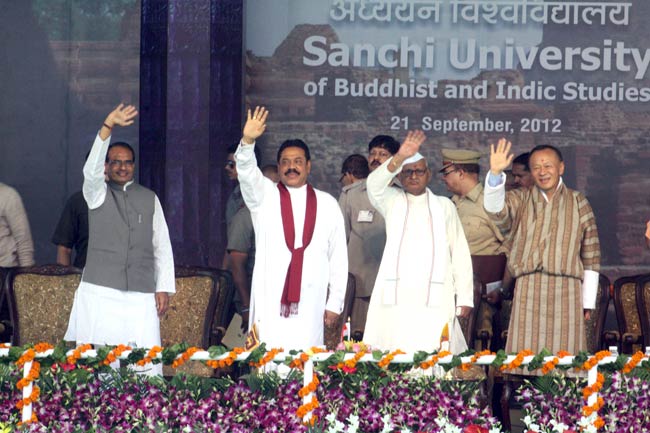 Sri Lankan president Mahinda Rajapaksa and former Bhutanese prime minister Jigme Y. Thinley laying the foundation stone of SUBIS in 2012. From Pankaj Tiwari, India Today
The core areas of study in which the university will offer degrees include Buddhism and Indian Philosophy, Comparative Religion, Prakrit and Jain Studies, Yoga Traditions in India, and Sanskrit Language and Literature. These subjects will be taught in five different schools: Buddhist Philosophy, Sanatan Dharm and Indic Studies, International Buddhist Studies, Comparative Religions, and Language, Literature and Art. The course on Buddhism and Indian Philosophy will focus on an overview of the teachings of the Buddha and an introduction to the Indian spiritual world view.
The website of the university states in somewhat faulty and clumsy English that: "All aspects of Buddhist-Indic Studies from philosophy to culture; from economics to governance shall be addressed in totality. It shall invite knowledge and wisdom from all ten directions; shall realize, redeem, research, refine and refurbish it further to disseminate in all spheres of life and contribute to the efforts in making 'Mother Earth' a better place to live in. This shall also contribute to the interaction among Asian countries and facilitate cross pollination of ideas and foster harmony among different Asian civilizations."
The website further points out that the university "shall endeavour to synthesize the ancient systems with the current needs; re-establish the knowledge catering to present day issues. We expect to revive the old glory of Nalanda, Taxila, Vallabhi, Vikramshila and move forward in current paradigm adding value to all aspects of knowledge, practice and wisdom for the benefit of everyone."
SUBIS has already organized two international conferences on the theme "Dharma and Dhamma." The first conference, held from 22–23 September 2012, was attended by more than 450 Buddhist and Indian scholars, including Mahinda Rajapaksa, Sri Lanka's president, and Jigme Y. Thinley, then prime minister of Bhutan. The second conference was organized from 28 February–2 March this year, with participation from over 150 scholars from different parts of the world. The chief guest was the queen consort of the Royal Government of Bhutan, Gyaltsuen Jetsun Pema Wangchuck.
With Samdhong Rinpoche as chancellor, it is likely that attention will be paid to Tibetan Buddhism and culture as well. Courses such as Tantra and Tibetan Buddhist Philosophy are likely to be established in good time.

Prof. K.T. Sarao, Buddhistdoor International
Source: phathoc.net (Aug. 7, 2014)